~ Butterflies On Flowers ~
Monarch Butterflies and Butterfly Gardening Tips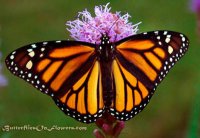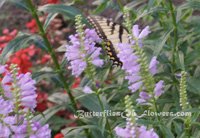 Have you ever wondered how to get a monarch butterfly to rest her weary wings in your yard?
This task isn't mission impossible if you've got the right incentives...and once you do, the brilliant beauties will be flapping fiercely at your garden doorstep.
Butterflies On Flowers was created to bring you the ultimate monarch experience. We'll offer tips about how to create a butterfly garden that should have your yard swarming with butterflies throughout the summer.
We'll also show you how you can witness the miracle of monarch metamorphosis first hand. Each page will offer interesting monarch facts and beautiful original pictures for your education and enjoyment.
Here's a preview to what's on site:
Butterfly Gardening
These are some of the topics we'll discuss to help you create your best butterfly garden:
How to develop a butterfly garden plan
Get tips from other gardeners and submit your own
What are host plants and should you get some?
Which flowers attract monarchs? Other butterflies?
Besides plants, what garden accessories should you consider?
Monarch Butterflies
Whether you enjoy looking at butterfly pictures or prefer a more hands on experience, we've got something to satsify all monarch admirers:
See a collection of original monarch butterfly pictures
Learn how to raise butterflies ingarden or indoors
Download printable butterfly coloring pages for the kids
Learn about the four butterfly stages
Get info about the fantastical monarch migration
See some of the best monarch butterfly art on the web
Also, please take a second to sign up for our latest site updates through the RSS feed in the left column. What's an RSS feed?
Alright! It's time to spread your wings and start fluttering around the rest of this site. Enjoy all the visions of butterflies on flowers
and
learn how to enjoy more in your own back yard.
Would you like to share your knowledge about keyphrase? Contribute to www.butterfliesonflowers.com!