Create a Butterfly Garden That Works

Creating a butterfly garden an be an extremely rewarding experience if you take some time to learn and prepare. it's not rocket science, but there are definitely some important tips that can mean the difference between swarms of beautiful butterflies or an eerily quiet flower garden.
PLAN
Like most things in life, if you start this project by creating a
butterfly garden plan, you'll spend the bulk of the spring and summer seasons enjoying the "butterflies" of your labor. If you don't, you'll likely be wondering what you could have done better to attract the beauties to your failed creation.
One of the most important parts of your plan is to develop an effective butterfly garden design. This insures that you plant the right plants, in the right places, at the right time!
PLANTS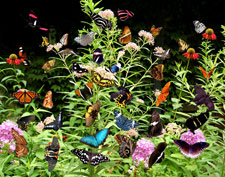 And speaking of plants, do you know which flowers attract the most butterflies?
There are also times when it can be advantageous to
start seeds indoors.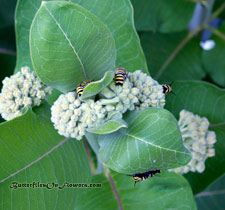 Besides flowers, there are other
plants that attract butterflies (but for very different reasons.)


After figuring out your plant situation , there are other accessories you might want in or around your garden including the following:
butterfly garden chair for either decoration or relaxation
a butterfly feeder to nourish the butterflies when there aren't any nectar filled flowers in bloom
a butterfly house to provide a comfy resting place or to shield them from storms
If you keep these points in mind when you create a butterfly garden, I have no doubt that you're well on your way to a summer of butterfly garden bliss.


Create a Butterfly Garden back to Home Page