Female Monarch Butterfly on Liatris spicata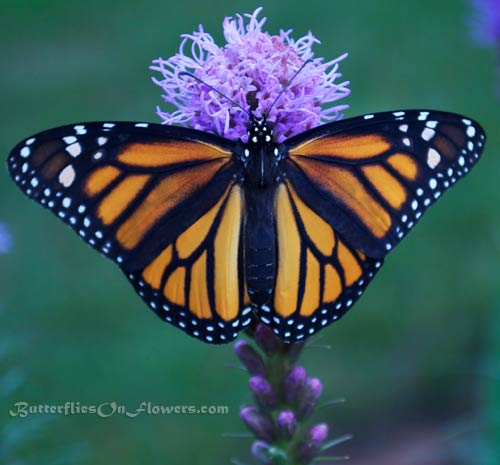 Caption: A Female Monarch Butterfly (Danaus Plexippus) shows off her gorgeous wings on Dense Blazingstar (Liatris spicata.)


This was one of the first butterfly pictures I shot with my new camera. I played around with the color temperature a bit and this was the result.
I am chomping at the bit to try out my new 70-300mm zoom lens and new HD camcorder in the summer of 2010! I look forward to the challenge of adding superior quality photos/video to this site in the new year.
Camera: Nikon D60 with 18-55mm Zoom lens.
Butterfly facts: Monarch butterflies are in the family Danaidae. Butterflies in this class are collectively known as milkweed butterflies.


Female Monarch Butterfly back to Monarch Pictures